Reasons to choose wrought iron components
Views: 532 Update date: Dec 09,2019
Almost everyone wants to design and decorate his or her home space to look unique and fashionable. The decoration should be in the way to attract the attention of the guests upon its entry itself. Wrought iron components are majorly accessed in fence, gate, and staircase because it brings aesthetic beauty and protection for the home simultaneously.
It is extremely strong and durable, yet it is a low carbon alloy than cast iron. It is also easier to bend and can be shaped into any desired structure without experiencing much hassle. All these things make it an ideal material for developing customized decorative items with unique details. Wrought iron component is available in different shapes and sizes so that customers choose the right one based on their needs and budget.
Since it requires low maintenance, you need not spend much time to take care of these things. It works better in all sorts of weather conditions and gives you ultimate protection in any situation. This solid iron defined into delicate and unique designs to add classic yet superb look to any home. The affordability nature of the iron makes it friendly for all the homeowners and fulfills their dream greatly.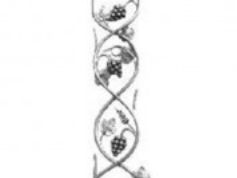 What to consider before buying wrought iron components
Wrought iron staircase and the gate are timeless and classy, which add extra stylish and aesthetic beauty/value to your residential space. However, before buying the
wrought iron components
, you need to consider certain things such as budget, style and property requirements. These things ensure the money you spend on this task highly valuable and useful as well.
Having a proper design in mind does not work all the time because it needs some time and space to work on. As soon as you decide to work on your project, you have to consider the following aspects for sure. It lets you define the style and fashion statement in your mind and keep you within your budget.
· Set up your budget because wrought iron cost differs based on your needs
· Never go for lookalike and cheap materials yet prefer alternatives such as aluminum
. Be aware of your final result and work on it. If necessary, then consider additional decoration such as light.
Prev News: Purpose of wrought iron components
Next News: Wrought iron for sale – SIMEN METAL CATALOGUE