Quote of decorative iron works from Nigeria
Views: 327 Update date: May 11,2021
SIMEN METAL is a professional company in the market of the wrought iron components for gates and fences. We began trading in 2010 and has now grown from strength to strength into one of the leading wrought iron supplier in China. More than 5,000 types of components in the field of forged /cast/stamping for gates and fences we can produce and supply now. We aim to send you a choice of a wide range of top quality decorative iron work at the most competitive prices. Recently, we got the quote of
decorative iron works
from Nigeria client, below is the details:
Dear Sir/Madam, Please, be informed that I'm interested to buy your company decorative wrought iron in 20ft container on daily bases to Nigeria. I am unable to print out your catalogue for my customers and they are in demand of your company products. I will appreciate it so much if you can send a printable version that could be easy to print out and displayed for my customers. Looking forward to your urgent reply. Thanks. Here are the interested products needed; FORGED SPEAR HEADS Pages 1-6, WROUGHT IRON COMPONENTS ROSETTES Pages 1-6, DECORATIVE IRON WORK SCROLL Pages 1-3, RAILING PARTS BASKETS Pages 1-2, RINGS Page 1 of 21 products, FORGED PICKETS Pages 1-11, HANDRAILS Pages 1 of 20 products, CAST SPEAR POINT Pages 1-3, STUDS Pages 1-4, BASES Pages 1-3, STAMPING LEAVES Pages 1-11_ CAST STEEL LEAVES Pages 1-7, CAST IRON COMPONENTS, Page 1 of 28 products, CAPS Pages 1-10, HANDLES Pages 1-2, LOCK PLATE Pages 1-3.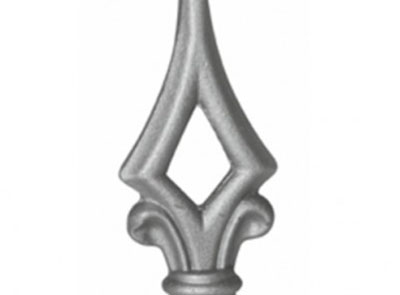 Our decorative iron works are sold in more than 30 countries including the UK, Poland, Romania, Slovakia, Russia, Ukraine, Hungary, Lebanon, Algeria, and Canada. If you don't find what you looking for in our catalog we also manufacture special items, please call or emails our sales office for advice and pricing. Clients from domestic and abroad are warmly welcomed to come to our company to discuss business.
Tel: +86-532-67722787
Fax.:+86-532-67722789
Email: info@simenmetal.com
Prev News: Quotes of Cast Steel Leaves from Ireland clients
Next News: SIMEN METAL - Service Provided by TÜV Rheinland